The winners of the 2018 Green Product Award have been announced. Since 2013, the Green Product Award has awarded innovative, sustainable design products for sustainable consumption. This year, from a total of 400 submissions from 25 countries around 100 nominees were presented to an international jury. Under the criteria Design, Innovation and Sustainability the winners have been chosen.
The quality of the submissions has risen again, as shown by the fact that since the five years of the Green Product Award, submissions have never been as close to the maximum score as this year. The winners show a fascinating array of sustainable design and inspirational consumer products: from 100% biodegradable, individually printable and transparent film packaging, to an intelligent water control that detects damaged lines and automatically stops water supply, to fair trade spices from conflict regions.
Both established, international companies such as GROHE AG and Münch AG, as well as newcomers who are less known but have come to very professional results with their products and big hearts, have emerged as winners.
| Category | Product | Organisation |
| --- | --- | --- |
| Architecture (P) | | Resysta International GmbH |
| Architecture (N) | | CONTAINERWERK eins GmbH |
| Consumer electronics (P) | | FARO BARCELONA |
| Consumer electronics (N) | | agrilution GmbH |
| Consumer goods (P) | | Landgard Obst & Gemüse GmbH & Co. KG |
| Consumer goods (N) | | Conflictfood GmbH |
| Energy (P) | | Münch Energie |
| Energy (N) | | ShadeCraft, Inc |
| Fashion (P) | | ROLF - Roland Wolf GmbH |
| Fashion (N) | | Offerte gmbH |
| Freestyle (P) | | Raimund Beck KG |
| Freestyle (N) | | Scholz & Volkmer GmbH |
| Furniture (P) | | Donar d.o.o. |
| Furniture (N) | | Ellenberger Design GmbH |
| Home accessories (P) | | Grohe AG |
| Home accessories (N) | | TISTEANE |
| Kids (P) | | Landgard Obst & Gemüse GmbH & Co. KG |
| Kids (N) | | BERMBACH Handcrafted |
| Material (P) | | Beaulieu Yarns |
| Material (N) | | Superseven GmbH |
| Mobility (P) | | EnBW Energie Baden-Württemberg AG |
| Mobility (N) | | Andrea Mocellin |
| Office (P) | | Vepa Project Furniture |
| Office (N) | | nawaro möbel UG |
| Audience Award | | Landgard Obst & Gemüse GmbH & Co. KG |
(P) = Professional, (N) = Newcomer
Resysta Universal Performance Board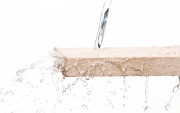 Resysta consists of approx. 60% rice husks, a waste material of the food industry. It has the look and feel of wood. But in many areas Resysta is much better than its natural role model. It is water-resistant, does not fade, can be processed like wood and, due to its durability, is also economically superior to many other materials. In addition, products made of Resysta can be 100% recycled, for which a recycling consortium has been established.
Company: Resysta International GmbH
Website: https://www.resysta.com (link is external)
Containerwerk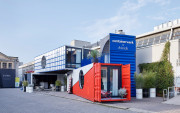 The Company Containerwerk eins GmbH with its headquarter in Stuttgart and its production in Wassenberg, upgrades used shipping containers in an automated and serial process into high-quality and sustainable living space. The Company founded in 2017 provides answers to housing needs by generating affordable, resource-conserving and contemporary living space.
Company: CONTAINERWERK eins GmbH
Website: www.containerwerk.com (link is external)
Hook, ecological and solidary lamp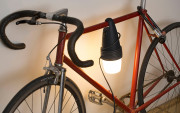 Hook is the first ecological and solidary lamp on the market. Ecological since it's manufactured with recycled plastic and toxic-free materials. Moreover, it is a design that helps others: each light fixture sold will feed one child for an entire school year thanks to a collaboration with the NGO Mary's Meals.
Company: FARO BARCELONA
Website: https://hook.faro.es/en/ (link is external)
The plantCube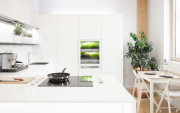 Smart Gardening for your home. agrilution offers a unique, plug'n'grow system called the plantCube, which is revolutionising the growth of fresh herbs, greens, microgreens and vegetables in your very own home. The smart, environmentally controlled, hydroponic system with finely tuned, optimised LED lighting, is bringing fresh, nutritious food with faster growth and unbeatable taste. We call it the ideal growth recipe, and for you, it's a smart green thumb.
Company: agrilution GmbH
Website: www.agrilution.de (link is external)

Eat like that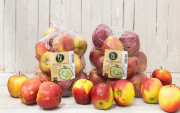 Fruit visually damaged by hail or severe weather can´t be placed on the marked according to commercial practice, but needs to be composted or discarded. However, the quality of these products is flawless. Labelled with "Eat like that" fruit is placed on the marked that doesn´t fulfill the actual requirements of being beautiful. This way, food waste and economical losses for the producers can be minimized.
Company: Landgard Obst & Gemüse GmbH & Co. KG
Website: www.landgard.de (link is external)
Conflictfood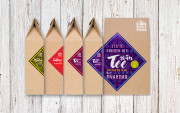 War, crises and poverty is daily life in many countries.The Conflictfood founders, Salem and Gernot, were fed up and they want to make a change. Since 2016 they travel to conflict regions and search for the best agricultural products. They discovered culinary treasures. Through fair and direct trade with farmers Conflictfood is creating new perspectives. This opens up ways out of poverty and fights causes of flight.
Company: Conflictfood GmbH
Website: www.conflictfood.com (link is external)
Münch Energie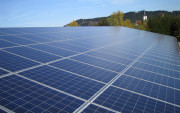 Münch Energie is one of the largest decentralized energy supplier in Germany. The company offers a special combination of ecological energy supply via photovoltaic and bloc heat and power plant with decentral storage options such as compressed air or water basins and a smart digital control of the entire system, what makes it most innovative.
Company: Münch Energie
Website: www.muench-energie.de (link is external)
ShadeCraft SUNFLOWER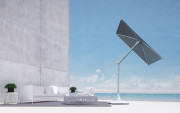 ShadeCraft Robotics is a technology platform company in Los Angeles, CA with a mission to improve human life outdoors through connected devices and robotic technology. ShadeCraft is proud to be at the forefront of an era where stoic objects are being replaced by smart autonomous robots. Our first product, SUNFLOWER, is the first outdoor, central hub that autonomously communicates, entertains, protects and provides ideal shade, all in an object already used by consumers and powered by the sun.
Company: ShadeCraft, Inc
Website: www.shadecraft.com (link is external)
Sprite by ROLF Spectacles

ROLF Spectacles combines brilliant ideas with natural materials, innovative technologies and the highest craftsmanship. To this day, tradition and high quality are our top priorities. ROLF's high-quality, extremely light wood, stone and horn eyewear are handmade in the mountains of Tyrol. A main focus of the company is to set design trends and realize new ideas.
Company: ROLF - Roland Wolf GmbH
Website: www.rolf-spectacles.com (link is external)
Fairbag

Our social design label "Fairbag" makes upcycling bags from used blankets and brings so socially disadvantaged people into work. We work without government support! We stand for sustainability towards people and the environment!
Company: Offerte gmbH
Website: www.fairbag-shop.de (link is external)
LignoLoc® - Collated Wooden Nail System

LignoLoc® is the first ever pneumatically driven wooden nail for future-oriented use in industrial production and ecological timber construction . LignoLoc® wooden nails are made from european beech wood and boast a tensile strength similar to aluminum nails. The nails can be driven into solid structural timber with the FASCO LignoLoc® pneumatic nailer, without any pre-drilling, to form an inseparable bond with the timber due to lignin welding.
Company: Raimund Beck KG
Website: www.beck-lignoloc.com (link is external)
Air Pollution Display

City design is as yet centered on cars, not people. Although the resulting elevated levels of nitrogen oxides (NOx) cause respiratory diseases and violate EU law, the population appears vastly unaware of the problem. Hence, the web-app visualizes the invisible health threat in real-time, for awareness and empowerment to self-protection. If the NO2-concentration exceeds the legal EU limit, the website's visualisation turns red. If values stay below the threshold, the screen turns green.
Company: Scholz & Volkmer GmbH
Website: www.stadtluft-anzeiger.de (link is external)
NICO LESS

Working with the material we have the most. And that is trash! Re-thinking our philosophy of socially responsible, sustainable design, we have created a simple but unique chair made of recycled Felt (60% re-cycled PP bottles and 40% non-woven textile). A tribute to the great industrial designer Niko Kralj, Nico Less is a revival of simplicity!
Company: Donar d.o.o.
Website: www.donar.si (link is external)
Nordic Space Bed

Manufactured in Upper Franconia, a region with a strong tradition in cabinet making, NORDIC SPACE BETT is made out of wood from nearby forests. Regionally and resource-efficiently crafted we aim to keep climate footprint as low as possible and avoid any unnecessary transportation by delivering our furniture directly from production plant to final customer. Inspired by designer Jannis Ellenberger the label "ellenberger" stands for sustainable design and long-lasting furniture.
Company: Ellenberger Design GmbH
Website: www.ellenbergerdesign.de (link is external)
GROHE Sense Guard

GROHE Sense Guard is the smart water control that tracks consumption, detects micro leaks and frost risk and in case of a detected burst pipe, automatically shuts off the water supply.
Company: Grohe AG
Website: https://www.grohe.de/de_de/ (link is external)
Lucioles Solar Lamps

La Luciole Pot de Lait Touch by Tistéane® is a nomadic and eco-responsible solar lamp with a vintage look, designed to illuminate your outdoor spaces. Equipped with a latest-generation monocrystalline solar panel, it collects and stores energy from the sun during the day. At dusk, thanks to its tactile feature, switch on your lamp with a simple touch of the finger on the solar panel and enjoy a light both abundant and sieved, up to 15 hours of use with a single charge.
Company: TISTEANE
Website: www.tisteane.com (link is external)
"Our School Garden"

To know the origin of food is the basis of a conscious and healthy nutrition and promotes the appreciation of these products as well as of natural resources. "Our school garden" provides an opportunity for primary-school pupils, to maintain indigenous plants in their own raised bed starting from seeding to harvest. Furthermore, basic knowledge of gardening is imparted. This way, the awareness of future generations regarding the origin and importance of healthy, high quality food gets sharpened.
Company: Landgard Obst & Gemüse GmbH & Co. KG
Website: www.landgard.de (link is external)
Stubenbett LOLA

With its handmade rattan beds for children, the manufacture BERMBACH Handcrafted fulfills the desire of many parents: The need of an individual and sustainable furniture, which can be enjoyed for a very long time.
Company: BERMBACH Handcrafted
Website: www.bermbach-handcrafted.de (link is external)
EqoBalance® biomass balance yarns

Beaulieu Yarns introduces EqoBalance®, the first biomass-balance polyamide yarns for carpets. Carpet tufters are requesting more environmentally-compatible yarns to support their overall commitment to greater sustainability and more efficient resource use. EqoBalance® biomass balance yarns are the fastest path forward and is a fundamental new choice to step into sustainable products and contribute to a better world.
Company: Beaulieu Yarns
Website: https://www.beaulieuyarns.com/en/eqobalance-yarns (link is external)
Repaq

Repaq is the only plastic free film packaging throughout Europe which is proven to be 100% biodegradable, individually printable and transparent. The raw material is residual timber from the FSC certified forestry. Only fast-growing and GMO-free plants are used. Repaq is certified by the German TÜV and compostable in home and garden. This is the highest environmental standard for film packaging worldwide. Within 42 days Repaq composts completely pollution-free.
Company: Superseven GmbH
Website: https://www.repaq.de/ (link is external)
EnBW Mobility+ App
Our EnBW mobility+ App analyzes your driving behaviour and shows you whether an electric vehicle is suitable for your mobile behaviour. In addition, the integrated map of charging stations helps you indentify a suitable station for your specific vehicle.
Company: EnBW Energie Baden-Württemberg AG
REVOLVE

The wheel in a new form Revolve has been invented and designed by Andrea Mocellin with the aim to be the first modular wheel. Which in turn will open new frontiers for the present and future of foldable vehicles. Its simplicity and compact design makes Revolve an iconic and unique product never seen before.
Company: Andrea Mocellin
Website: www.revolve-wheel.com (link is external)
Felt, a chair made from PET bottles

Bottle – felt – Felt: Felt gives waste material a second life. It is a modern chair made from recycled PET bottles. 60 PET bottles are given a new life with every seat. Besides being a feast for the eyes, this innovative material also benefits the environment. The sound absorbing ability is additional positive feature. This makes the chair extremely suitable for circular furnishing concepts.
Company: Vepa Project Furniture
Website: https://vepa.nl/portfolio/felt/?lang=en (link is external)
OnebyOne

没有金属,胶水和工具组装! 在连接器系统中易于构建实木语料库是OBO沙发的特征。 OBO的语料库是用泡桐木制成的标准语言 - 很快也是用塑料制成的秸秆复合材料的变体。 完全避免有害污染物,溶剂,增塑剂。 枕头,座垫和床垫的水分调节填充物是i.a. 来自稻草或天然乳胶。 生产也在区域内进行。
Company: nawaro möbel UG
Website: www.nawaromoebel.de/
And it's not over yet:
From the 17th of July to the 24th of August the public can choose the Audience Award from the entire Green Product Selection via an online voting. In addition, students can submit their concept for the Green Concept Award 2018 until the 19th of August.